Boat Tours from Belle of the Ozarks
Belle of the Ozarks Beaver Lake Cruises
An excellent narration by the Captain of Belle of the Ozarks as you gaze at Beaver Dam, White House Bluffs, a submerged homestead, the Ozark Bluff Dweller's burial ground and a two hundred acre game preserve island. Passengers are excited when they see deer swimming in the lake. Feed the ducks and wild geese. Spot a Bald Eagle soaring overhead during spectacular Fall Foliage tours. Over 60 miles of scenic shoreline on this 12 mile adventure, a great addition to your stay at Sugar Ridge Resort!
Belle of the Ozarks Daily Departures: May through October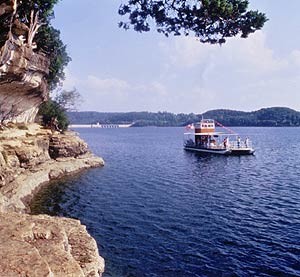 Ideal for Groups & Family Fun!
Time: 11am, 1pm, 3pm, & 6pm Evening Cruise (Memorial Day through Labor Day)
Closed On Wednesday. 1 hour & 15 minute cruises depart from our dock.
Directions:
Take Scenic 62 W from Eureka Springs
Turn right onto Hwy. 187 at the Exxon Station (4.5 miles)
Turn left onto Mundell Rd. (4.5 mi.) into Starkey Park.
Take 1st right after gatehouse to our dock on lower level to left of the Marina.
Individual Rates: $20 (Adult) | $7.50 (Child, under 12)
Contact:
Belle of the Ozarks
www.belleoftheozarks.com
(479) 253-6200
reservations are recommended