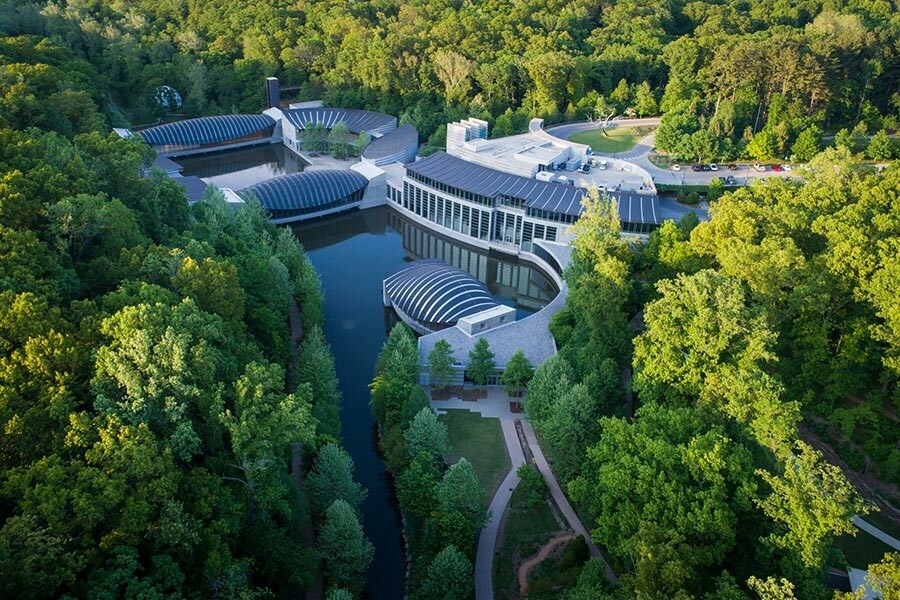 Art fans staying at our Beaver Lake cabins will be pleased to know that Crystal Bridges Museum of American Art is only a scenic 40 minute drive away, in Bentonville, AR. The museum's stunning, 50,000 square foot gallery space contains a considerable collection of important American artworks, spanning from Colonial times to the present.
The museum opened in 2011 as the brain-child of Alice Walton, heir to the Walmart fortune. The facility includes galleries, meeting and classroom spaces, a library, sculpture garden, and a glass-enclosed gathering hall that can hold up to 300 people.
Visiting Crystal Bridges
The first amazing work of art you'll see upon arrival at Crystal Bridges is the museum itself. The elegant glass-and-wood construction, designed by architect Moshe Safdie and engineer Buro Happo, consists of eight linked pavilions, nestled in the forest and wrapping around and over two large, spring-fed pools. The effect is at once striking and calming; the perfect merging of nature and design. Some spend almost as much time admiring the museum and grounds as they do the art it contains!
Not that the work inside is anything to sniff at.
Crystal Bridges' collection includes major works by such important American artists as John Singer Sargent, George Catlin, George Bellows, Jasper Johns, Roy Lichtenstein, Robert Rauschenberg, Janet Sobel, Andy Warhol, Jackson Pollock, and so many others. As I say at the top, the museum's permanent collection contains works from 500 years of American art.
The facility also includes classroom spaces, a library, sculpture garden, and a glass-enclosed gathering hall for up to 300 people. You'll also discover a store, restaurant, coffee bar, outdoor event spaces, and nature trails. A number of the trails on the grounds lead to downtown Bentonville.
Crystal Bridges Museum of American Art
Crystal Bridges is located at 600 Museum Way, in Bentonville AR, just 40 minutes from Sugar Ridge Resort. Visit crystalbridges.org for hours and more information. You can also find the museum on Facebook.
It would be very easy to make a fun day-trip out of your visit! Other, popular area attractions include the 21c Museum, the Peel Museum & Botanical Garden, The Walmart Museum, shops, restaurants, and many other points of interest.
What things do you like to see or do? Let us know and we'll help point you in the right direction. Sugar Ridge Resort loves sharing the area with our guests!