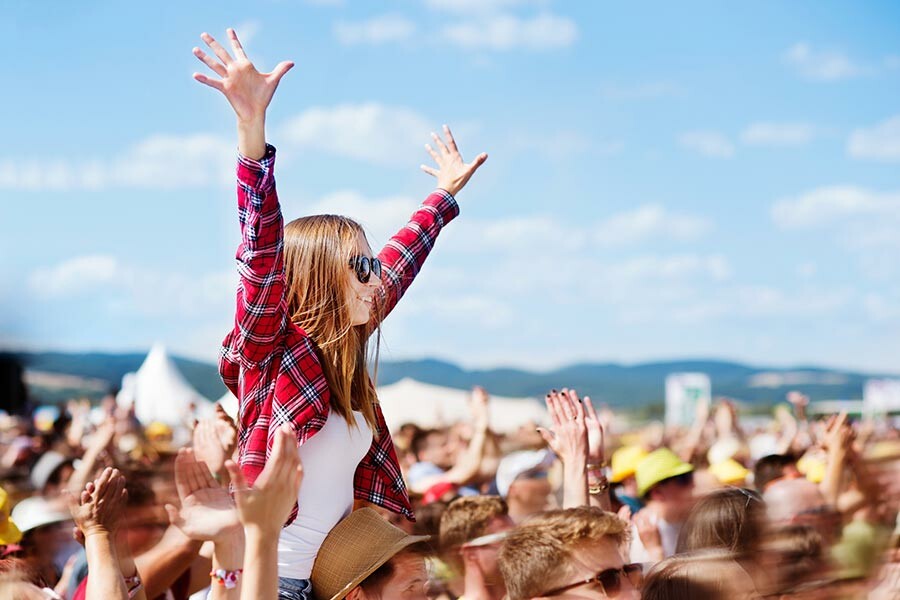 Hillberry Music Festival 2023 is just weeks away. The popular, multi-day festival features over 30 groups playing Americana, Bluegrass, and Funk on two stages for five nights. October 4th through the 8th, 2023.
If you like good music, good food, and a good time, you'll love the Ozarks, you'll love Hillberry Music Festival. The event, which sprang to life spontaneously in 2015, celebrates the arrival of the harvest moon. Thus it's less well known full name: Hillberry the Harvest Moon Festival.
The festival seems to get a little bigger each year and is considered one of the Midwest's top Bluegrass Festivals. The event draws thousands of people each year and who can blame them? More than 30 bands for 5 nights plus food, drink, craft vendors, workshops, and more.
The event takes place on The Farm, a 160-acre campground and events center north of Eureka Springs. The location is a stunning camping area featuring 360-degree panoramic views of the Ozarks. Mark Twain National Forest, Table Rock Lake, the White River, and Beaver Lake are all nearby.
In fact, The Farm is less than a 15 minute scenic drive from Sugar Ridge Resort.
While many who attend the festival simply camp on site, others prefer to retire to a separate location. Somewhere like the Beaver Lake cabins and suites at Sugar Ridge Resort!
Spend as much time as you like soaking up the fun of the festival, then return to the peace and quiet of your accommodations on Beaver Lake. Perfect!
2023 Hillberry Music Festival Lineup
This year's Harvest Moon Festival runs from October 4th through October 8th, 2023. The Farm is located at 1 Blue Heron Lane in Eureka Springs, AR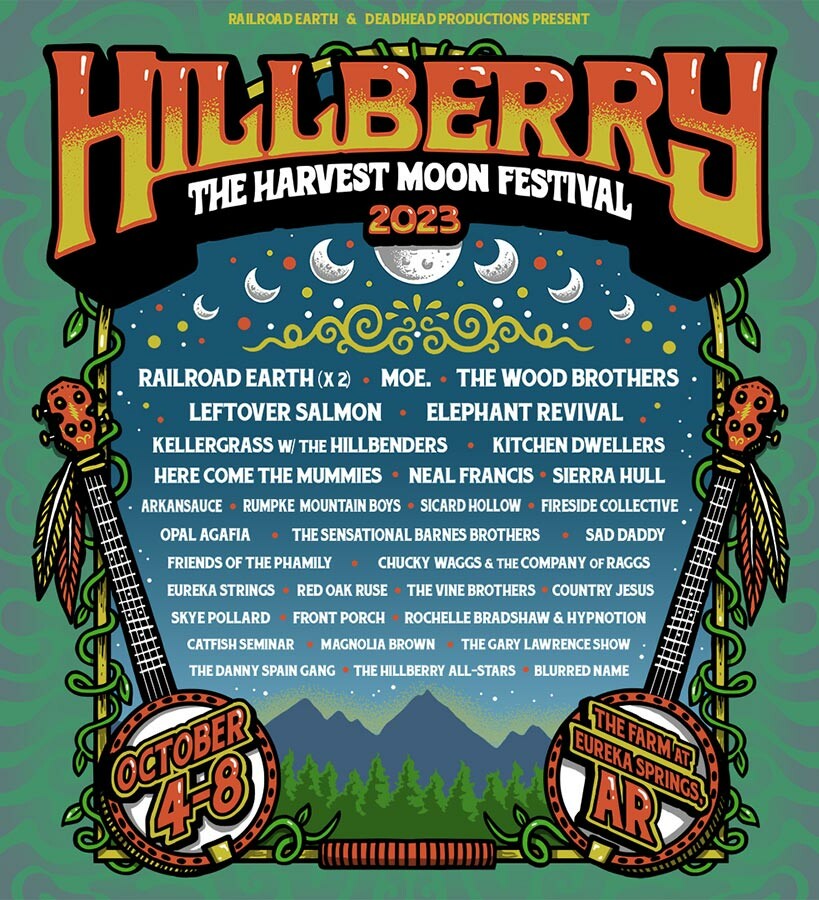 Wednesday, October 4 –
5:40pm – 7:10pm: Front Porch (Shrine Stage)
7:55pm – 9:25pm: Eureka Strings (Shrine Stage)
10:10pm – 11:40pm: Friends of the Phamily (Shrine Stage)
Thursday, October 5 –
11:30am – 12:30pm: Danny Spain Gang (Shrine Stage)
1pm – 2pm: Magnolia Brown (Shrine Stage)
2:30pm – 3:30pm: Red Oak Ruse (Shrine Stage)
3:40pm – 5pm: Country Jesus (Main Stage)
5:40pm – 7:10pm: Rumpke Mountain Boys (Main Stage)
7:55pm – 9:25pm: Kellergrass with the Hillbenders (Main Stage)
10:10pm – 11:40pm: Kitchen Dwellers (Main Stage)
12:55am – 1:55am: Arkansauce (Main Stage)
Friday, October 6 –
1pm – 2:30pm: Skye Pollard & Fanmily Holler (Shrine Stage)
3pm – 4:30pm: Chucky Waggs & the Company of Raggs (Main Stage)
5:10pm – 6:40pm: Sierra Hull (Main Stage)
7:20pm – 8:50pm: The Wood Brothers (Main Stage)
9:30pm – 11pm: Leftover Salmon (Main Stage)
11:40pm – 1:10am: moe. (Main Stage)
1:30am – 3am: Fireside Collective (Shrine Stage)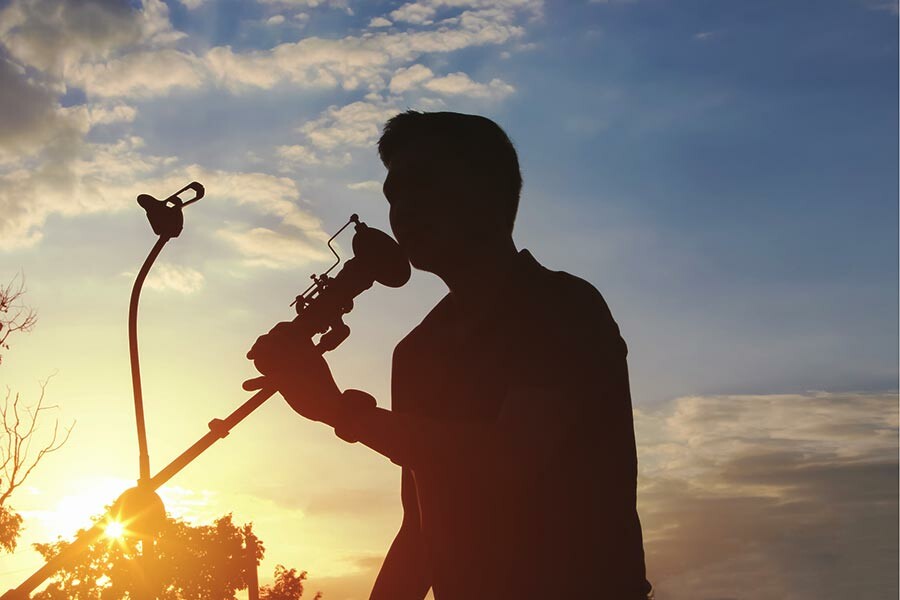 Saturday, October 7 –
9am – 10:30am: Hillberry All-Stars / Chompdown! (Activities Tent)
12:45pm – 2:15pm: The Vine Brothers (Shrine Stage)
2:30pm – 4pm: Catfish Seminar (Main Stage)
4:30pm – 6pm: Opal Agafia (Main Stage)
6:45pm – 8:15pm: Neal Francis (Main Stage)
9pm – 12am: Railroad Earth (Main Stage)
12:40am – 2:10am: Here Come the Mummies (Main Stage)
2:10am – 3:40am: Sicard Hollow (Shrine Stage)
Sunday, October 8 –
10:15am – 12:30pm: John Henry Band Competition
12:30pm – 2pm: The Gary Lawrence Show (Shrine Stage)
2:30pm – 4pm: Rochelle Bradshaw (Main Stage)
4:40pm – 6:10pm: Sad Daddy (Main Stage)
6:50pm – 8:20pm: Elephant Revival (Main Stage)
9pm – 12am: Railroad Earth (Main Stage)
12:40am – 2:10am: The Sensational Barnes Brothers (Main Stage)
2:15am – 3:30am: Blurrred Name (Shrine Stage)
Festival tickets are limited and sell out every year. Get yours while you still can on the Hillberry Music Festival website. You can also find this event on Facebook