Curious happenings abound at Sugar Ridge Resort. One day, our 6 Couples Cabins above Beaver Lake virtually disappear from our power bills. On other days, our power meter runs backwards! OK, this is not so surprising, but the excitement is all the same. Sugar Ridge Resort is proud to announce our Solar Powered Cabins in Northwest Arkansas!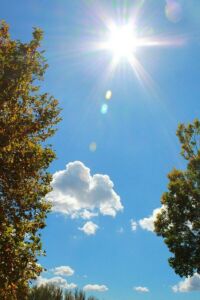 Solar Powered Cabins in Northwest Arkansas
All accommodations on Sugar Ridge sit nearly 300 feet above Beaver Lake. Rest on our porches, while perched on the highest mountain ridge for miles around. Sunlight often soothes the shoulders of our guests, before it warms the valleys below. Besides providing great spots for you to linger, what else do we imagine for these hallowed grounds?
Our resort's management is thinking "green" and acting on the bright idea of solar power. Two solar panel arrays are now in operation. One, is nestled among the wildflowers alongside the resort driveway. The other sits atop Eagle's Nest, one of our large Family Cabins. Rest assured, no views from Sugar Ridge have been harmed during this project!
While the solar panels do not quite power the entire resort, a significant power burden is removed from the power grid. The panels are a step in maximizing the benefits of spending time at this place, while minimizing the impact to its pristine state. Please feel free to contact us with other ideas you imagine for our service, and stewardship of this land.