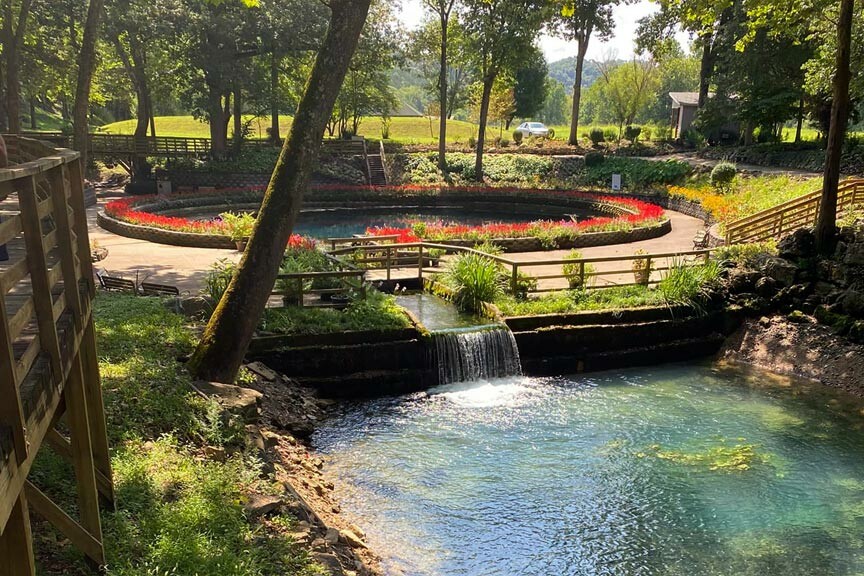 Visit Blue Spring Heritage Center and discover one of the area's last uncapped springs, along with fascinating history, unique geology, and unrivaled natural beauty.
Blue Spring is a natural spring that fills a deep, round pool with 38 million gallons of fresh, clear water every day. The water from the pool first spills over into a trout-filled lagoon, then tumbles over a small dam down to the White River.
People have been visiting the spring for thousands of years. In fact, a 1971 archeological dig at the spring uncovered artifacts dating back to 8000 BCE. Visiting Native Americans very clearly used the nearby, overhanging bluff as a shelter, earning it a much-deserved spot on the National Register of Historic Places.
Today, you'll still find much of what drew those original visitors to Blue Spring, along with landscaped gardens, a Visitor Center, and more.
Best of all, Blue Spring Heritage Center is located at 1537 Co Rd 210, an easy and scenic 15 minutes from the door of our Beaver Lake cabins.
Visiting Blue Spring Heritage Center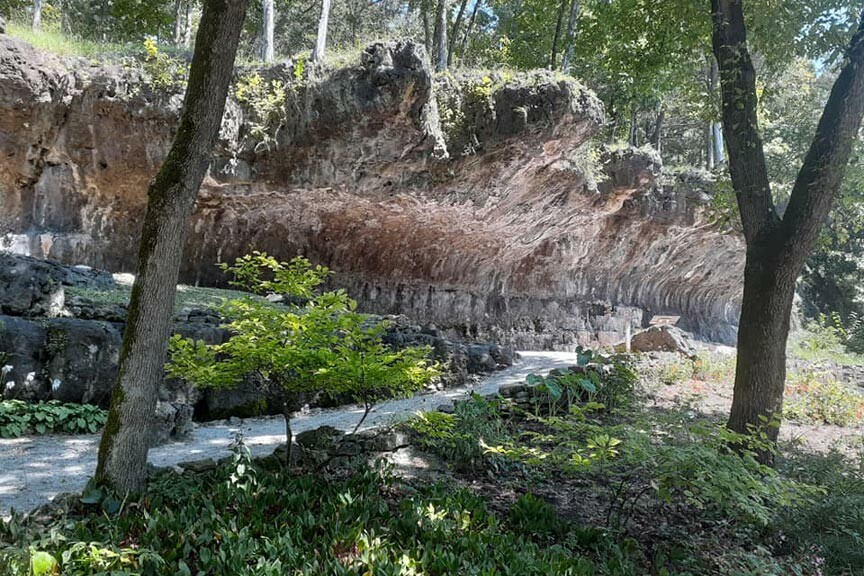 Blue Spring Heritage Center offers 33 acres to soak up but we suggest starting off at the Visitor Center. Here you can view a short film on the spring's history, along with historic artifacts and photos.
After that, it's time to hit the trails. The center is home to a mile of well maintained and popular walking trails. Interpretive signs throughout provide insight as you walk through the gardens and to different points of interest.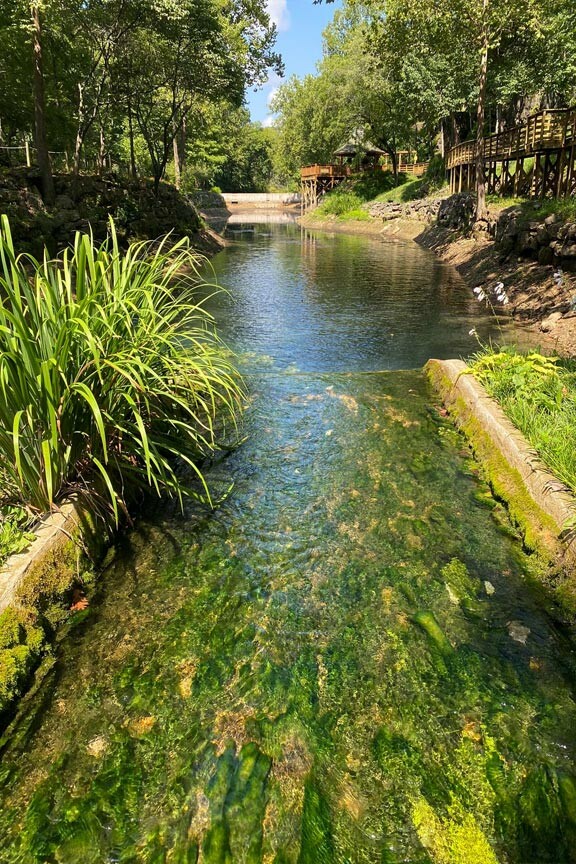 Highlights include the historic Bluff Shelter and Blue Spring's trout-filled lagoon. A gazebo overlooking the lagoon is a popular place to stop and take in the view. You can also feed the trout, if you wish. Fun!
You'll also find three special and lovely gardens at Blue Spring Heritage Center. The Medicine Wheel Garden contains plants that are important to Native American spiritual practices. The Three Sisters Garden demonstrates native ingenuity via a traditional interdependent community of plants. The Woodland Gardens features plantings among the native timber.
Other attractions at the center include a monument to President Bill Clinton and the ruins of a historic Blue Spring Mill. The mill, located some 300 feet downstream from the spring, was built in the early 1840's to grind corn. A newer mill replaced it in 1903, only to be taken back down in 1943. Today, only the turbine remains.
Spend an hour or two walking the trails and taking in the beauty at Blue Spring, then it's only 15 minutes to the comforts of your accommodations at Sugar Ridge Resort. Fantastic!
Blue Spring Heritage Center is open daily, 9am to 6pm, from March 15th through November 29. Learn more at bluespringheritage.com. You can also find the Center on Facebook.