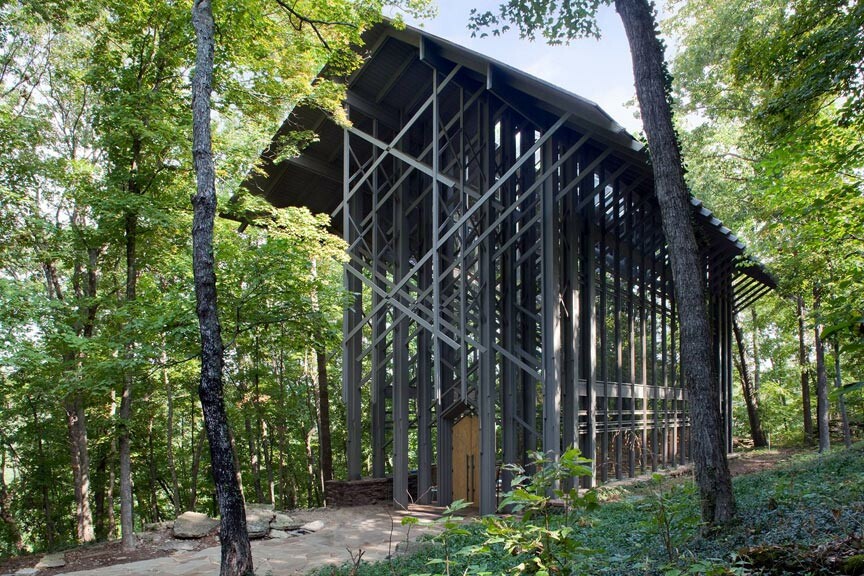 If unique and beautiful architecture in a truly sublime setting sounds like something you'd enjoy, we recommend a visit to Thorncrown Chapel. The stunningly crafted architectural marvel is nestled in the woods, just 15 minutes from Sugar Ridge Resort.
Visitors to the Beaver Lake Eureka Springs area will find no end of attractions and activities to keep them occupied. Outdoor adventure like boating, fishing, and hiking, along with some of the region's best art, food, fun, shopping, sightseeing, and more.
The area is home to lots of unique sights and attractions, as well. Natural caverns, springs, and rock formations, along with the fascinating works of man. Things like historic downtown Eureka Springs, Christ of the Ozarks, and Quigley's Castle. In this latter category, nothing is quite as affecting or beautiful as Thorncrown Chapel.
Thorncrown Chapel
Thorncrown Chapel is located at 12968 Highway 62 West, just outside Eureka Springs, AR, a 15 minute drive from our Beaver Lake cabins.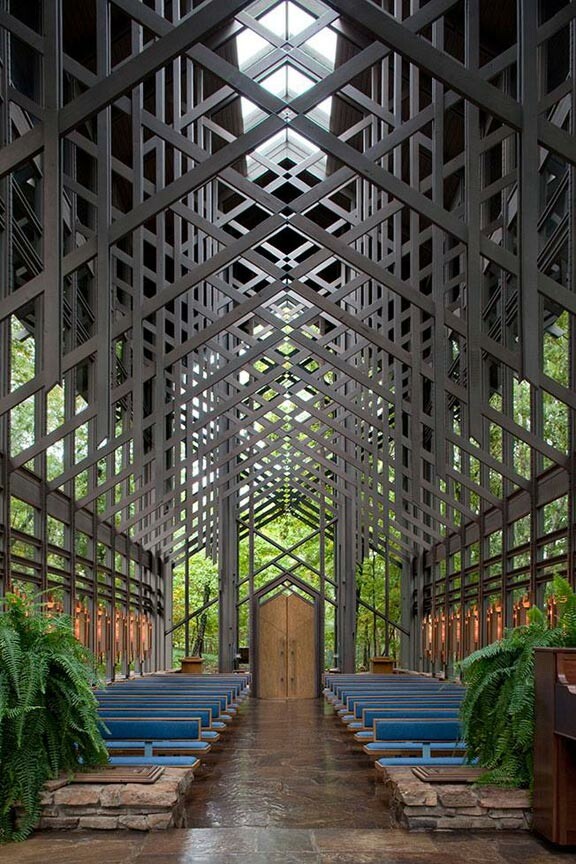 The chapel, built in 1980 by E. Fay Jones, stands on a narrow, wooded shelf on a north slope of the Ozarks. Landowner Jim Reed contracted Jones, who apprenticed with Frank Lloyd Wright, to create a structure that would attract passer-by to worship.
The chapel is simple, yet enchantingly majestic and considered one of the finest religious spaces of modern times. Many think the structure is open to the air when they first see it. That's because the chapel walls are glass. 425 separate sheets, in fact, comprising over six thousand square feet of glass!
The rest of the chapel, with little exception, was constructed using materials taken from the local wilderness. The intricate and mostly wooden structure rises forty-eight feet up into the forest canopy. The foundation uses more than 100 tons of native stone, topped with colored flagstone, allowing it to blend seamlessly into its surroundings. Inside, angular beams support the peaked roof with perfect, interlocking symmetry.
It truly is a sight to be seen. No matter your personal beliefs, its beauty is universal.
Thorncrown Chapel is open March through November, 9am to 5pm, with occasional closings for special events. Sunday services are 9am and 11am, April through October. November through the third week in December, 11am only. Services last approximately one hour. Everyone is welcome.
Learn more by visiting the chapel online at thorncrown.com. You can also find the chapel on Facebook.