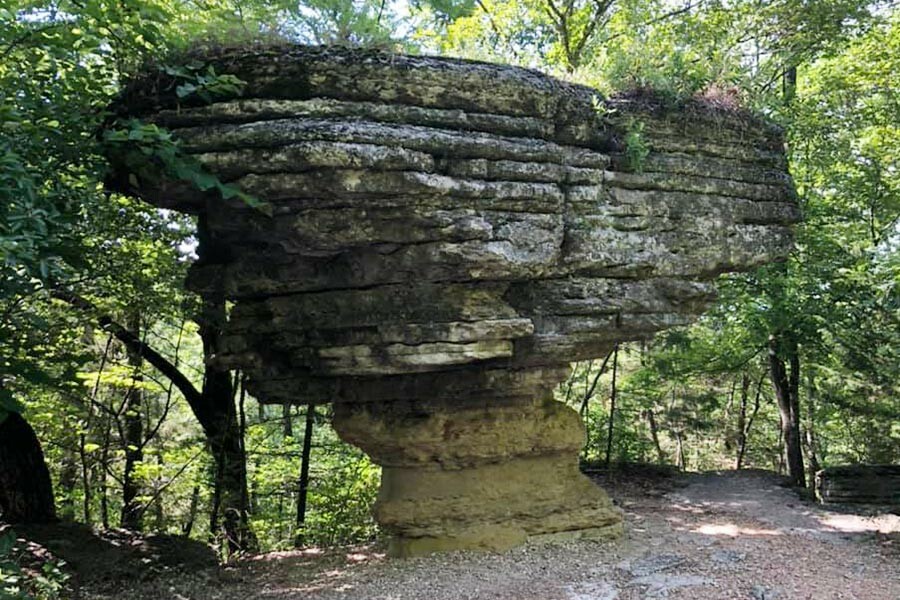 If you enjoy unique rock formations, you'll want to make time to visit Eureka Springs' Pivot Rock Park and Natural Bridge, less than a half hour's drive from our Beaver Lake.
Arkansas is full of fascinating natural wonders. Caves, natural springs, lakes, mountains, and parks that can amaze, baffle, and even inspire you. Of course, guests of our Beaver Lake cabins and suites will not need to go far for that. You can easily fill your days with good ol' mother nature right here on the lake. Hiking, fishing, paddling, swimming, and so much more.
That being said, sometimes even the best places can get stale and a simple change of scenery can do wonders. Luckily, the surrounding area is loaded with things to see and do, no matter which way you turn. Eureka Springs is right next door, after all. Home to shopping, dining, museums, live entertainment and, yes, plenty of natural attractions, too. Things like Pivot Rock Park and Natural Bridge!
Pivot Rock Park & Natural Bridge
Pivot Rock Park is located a few miles north of Eureka Springs, just off of Highway 62 West, at 1708 Pivot Rock Road. This is, as I mentioned above, just a short and scenic drive from Sugar Ridge Resort.
The park, a small and historic roadside attraction, is full of small caves, deep gullies, and strange, stacked rock formations. In fact, the area is so unique that it was once featured in Ripley's Believe It Or Not. Legend has it the area also once served as hideout for Jesse James and the James-Younger Gang. That's such a common claim around these parts, however, that you can very much take the claim with a grain of salt.
Visitors to the park pay a small fee to enter and explore at their own pace. Pivot Rock and the Natural Bridge formations are reached via a short hike on a paved trail, through a nicely wooded area.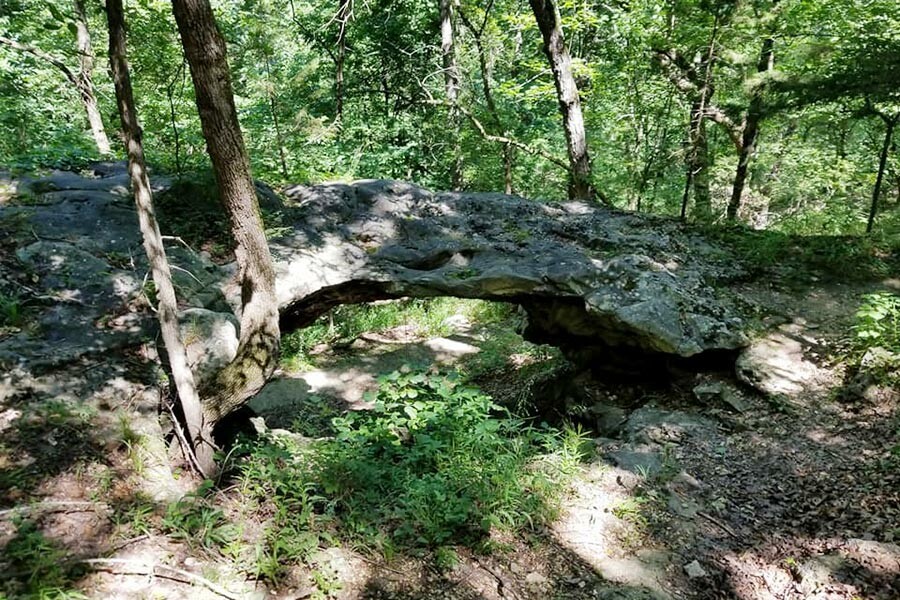 Natural Bridge is the first big attraction along the trail, found jutting up from the rugged hillside. The trail allows you to view this curious and weathered stone arch from all sides. It really does look like just a bridge, albeit from some fantasy illustration.
Pivot Rock is next along the trail and impossible to miss. The naturally formed, 12 foot tall, upside down, pyramid-shaped rock looks to be balancing on its tip. The top is about ten feet wide, yet the base only around a foot thick! Ripley's billed it as the largest freestanding rock formation with a base ten times smaller than its top. You'd think it would fall right over but it's really very stable and the perfect subject for fun photos.
Pivot Rock Park is open March to October, 10am to 5pm, everyday but Thursday. Learn more about the park by visiting it on Facebook.
Those looking to spend a little more time in the area should consider a stop by the stunningly beautiful Thorncrown Chapel, just 10 minutes from Pivot Rock at 12968 US-62, Eureka Springs, AR.
Then it's just a short hop back to your digs at Sugar Ridge Resort. Perfect!