The next Great American Eclipse, a total solar eclipse running diagonally across the US, Texas to Maine, will occur April 8th, 2024. This amazing natural event sweeps right past Beaver Lake, promising one heck of a an amazing natural show over the lake. If you'd to be here, now is the time to make those reservations before we're all booked up!
Partial and total solar eclipses occur far more often than we realize. In fact, one occurs about every 18 months or so – but you have to be in the right place, at the right time to catch one. Those not in the narrow band directly under the eclipse, known as a "path of totality," will only see a partial eclipse or, if farther away, nothing at all.
This rarity, coupled with the sheer uniqueness of the event, makes experiencing a solar eclipse a real treat. Especially a total eclipse, like the upcoming one on April, 2024.
Here in Northern Arkansas, we can expect partial coverage of the sun to begin around 12:37pm, with full coverage at 1:54pm. Everything will back to normal by about 3:15pm. That's nearly three hours, start to finish.
Of course, since Beaver Lake is not directly under the path of totality, we'll only experience a partial eclipse. We're not that far away though, so should still be treated to an amazing natural show. One made even better by the view from our Beaver Lake, AR cabins and suites.
2024 Solar Eclipse Over Beaver Lake
As I say above, the 2024 eclipse will occur on April 8th. The eclipse's path of totality is set to run in a diagonal arc across North America; through Sinaloa, Mexico, up across the US, and out through Newfoundland.
Solar eclipse totalities can last anywhere from only 10 seconds to almost 7 and a half minutes long. The April 2024 eclipse totality will last around 4 minutes long in northern Arkansas. Not bad!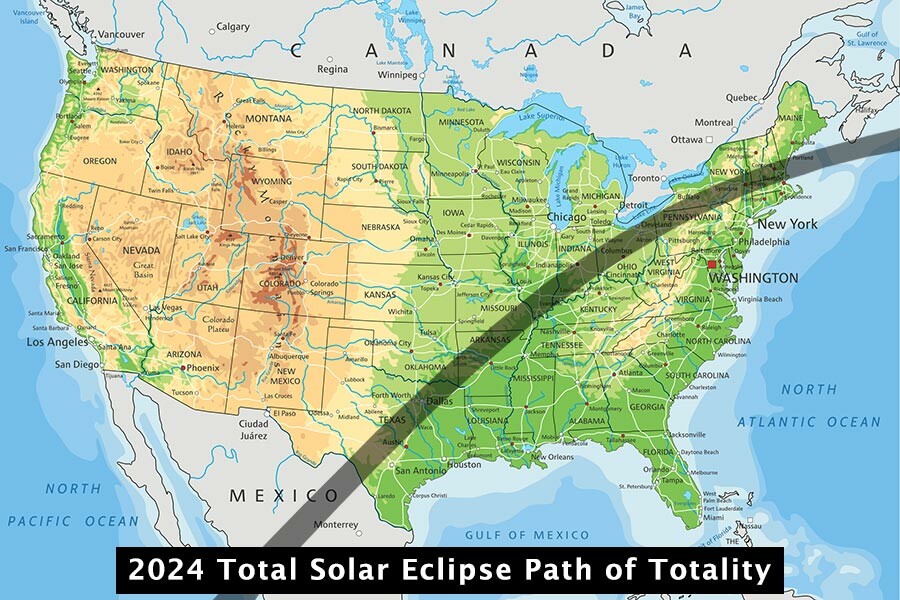 Arkansas expects somewhere in the neighborhood of 180,000 outside visitors for the eclipse. Of course, most will head for the path of totality. Those interested in less of a circus and more quiet, lakeside views are urged to book now, before we fill up.
Predicting an eclipse is one thing, predicting the weather is another. While I'd love to promise clear skies for this event, I cannot – but at least you'll be at beautiful Beaver Lake!
If it's overcast, you can always go hiking, boating, birding, or explore the region. Eureka Springs is right nearby, after all, and much more, too. You can also just kick back somewhere comfortable at the resort and take in those stunning, Beaver Lake views.
Visit www.greatamericaneclipse.com for more information about the upcoming 2024 total solar eclipse over Arkansas.