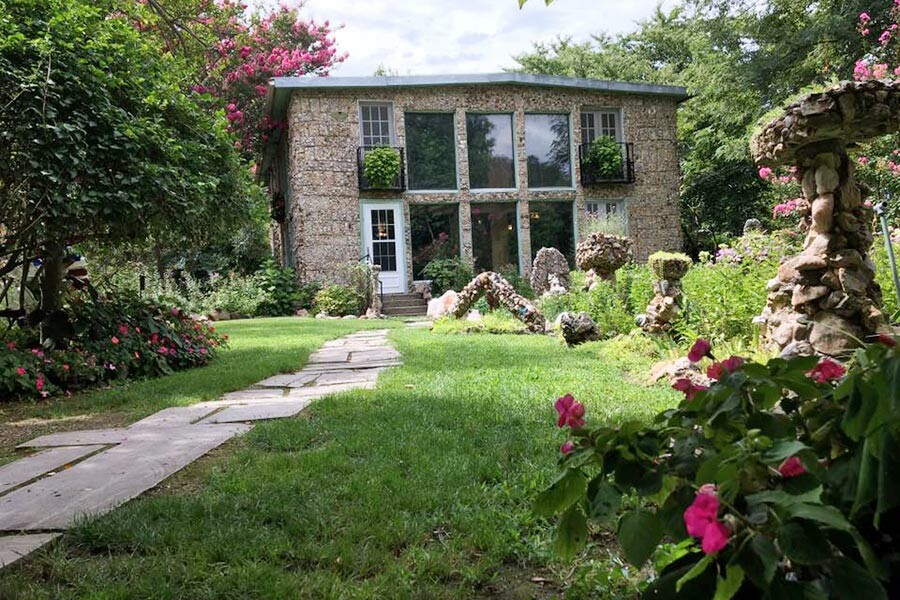 Those looking for a unique experience will enjoy visiting Quigley's Castle, an unusual and historic family home known as "The Ozarks' Strangest Dwelling."
The Beaver Lake area is home to a number of unique and memorable attractions. Thorncrown Chapel, War Eagle Cavern, Christ of the Ozarks, Blue Spring Heritage Center, and so much more. None are quite as idiosyncratic as Quigley's Castle, however.
The "Castle" is really a farm house, built just south of Eureka Springs in the 1940's – but that's where what's normal about this family home ends.
When visiting, one of the first things you'll notice about the property is all the plush and colorful foliage. Wildflowers, antique roses, and 400+ varieties of perennials surround the home. Then again, maybe the towering, vine-covered rock pillars, "bottle trees", and other rock sculptures will catch your eye first. Or perhaps the two-story, plant-filled, stone/shell/fossil/arrowhead-covered house will be what first grabs your attention.
Whichever detail, you can credit Elise Quigley (1910-1984).
A Castle's Humble Origins
When Albert and Elise Quigley first moved onto the property in 1930, their only dwelling was an old lumber shack. Albert promised he'd build Elise a real home and that she could design it. Excited to move out of the decrepit old shack, she got right to it.
Even the best of intentions can fall by the wayside, however. Five children into the marriage, the Quigley's were still living in the old lumber shack. Elise had had enough. One morning, after Albert had left for work, she and the children pulled the old shack down. A replacement would have to be built now, and Elise was ready with her design.
Construction on the house began in 1943, with lumber sourced directly from the farm. A nature lover, Elise dreamed of a house that was less a box keeping nature out than one that contained and reflected the natural world back. 28 huge, picture windows in the walls remove the sense of being indoors and allow natural light to fill the space within. Her unusual design separates the interior living space from the exterior walls with four feet wide flower beds. Here she nurtured flowering, tropical plants that have since grown all of the way up to the second story ceiling!
Elise's lifelong habit of collecting fossils, crystals, arrowheads, and other interesting small stones came into play when she decided to rock the outside of the house with her collection. The task took her three years to complete and then spread out into the garden and yard. Here she constructed fences, chairs, statues, and other whimsical forms using found stone, shell, and crystal.
Elise Quigley's quirky love of collections can be found indoors, too. She spent forty years filling every possible nook and cranny of the house with her collections and creations. Antiques, mementos, and lots more stone, shell, and crystal. Her famous "Butterfly Wall" is a particularly spectacular example and must be seen in person to be truly appreciated.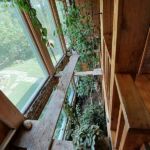 Quigley's Castle
Elise Quigley died in 1984, leaving her magnificently singular home behind for others to enjoy. Quigley's Castle can be found at 274 Quigley Castle Road in Eureka Springs; just a scenic half hour's drive from Sugar Ridge Resort and our Beaver Lake cabins.
The Castle is open March through October. Hours are 10am to 4:30pm, April 1st through October 31st. Call for March and November hours: (479) 253-8311 Closed Sundays and Thursdays. Visit the Castle website for more information.